In 2014, the Resident Council first offered its vision for the revitalization of Golden Gate Village; for seven years the Marin Housing Commissioners routinely ignored their request to present this vision.
Dismissed by those charged with protecting resdients' interests, the Council assembled its own team of professionals and developed a detailed, 175 page document. It includes a historic structure report, sustainability assessment, historic landscape anaylsis, detailed design considerations, and proposed funding sources.
Additionally, the Resident Plan offers solutions for the three key concerns raised by HUD - and without destroying the historic integrity of the Village:
1. Minimal, temporary displacement of GGV residents during renovation.
2. "Over-housing" and senior needs.
3. Expanded opportunities for community and other meeting space.
Supported publicly by a substantial majority of GGV heads-of-household, the Resident Plan stands in sharp contrast to any plan that would involve new building.
It is the quickest to commence, the quickest to complete, the least expensive (while still providing deep green, state-of-the-art renovation) - and the only detailed plan ready to meet HUD's demands right now.
You can read it for yourself here.
Can One Bay Area Housing Complex Radically Change Affordable Housing?
"What we want is to be a model for the nation," says a resident of Golden Gate Village. "You're always going to have poor people, and we deservice a right to safe, decent, and sanitary housing."
Read the full story in MOTHER JONES here.

A Limited Equity Housing Cooperative (LEHC)
A vital element of the Resident Plan calls for the formation of a limited equity housing co-op. Why?
In two words: fairness and justice. An LEHC is the only housing model that gives Golden Gate Village residents control of their own community and future.
Simply put, it is the moral thing to do.
To learn more, read:
• Marin Independent Journal op-ed (published online 10/13/22, in print 10/14/22)
• The Pacific Sun investigative story (published 11/2/22)
And watch this short interview on 10/23/22 with Resident Council President, Royce McLemore.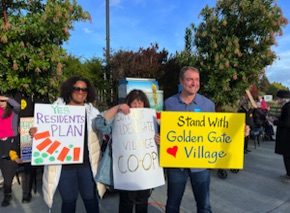 So what path did the Marin Housing Commission choose when they voted on Novemer 15, 2022?
In a word: racism.
The Commission voted 5-2 to reject the LEHC plan for Golden Gate Village. Read more here.
But the fight's not over. If you belive in supporting equity and fairness, stay tuned.
Supporters of the residents' LEHC plan prior to the Commission meeting on November 15.