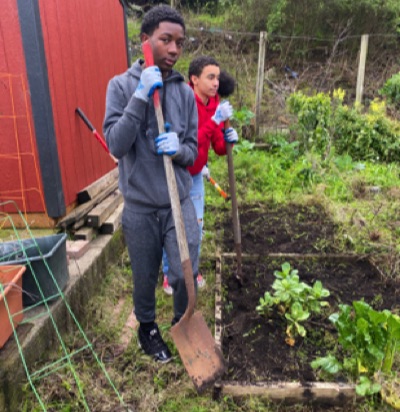 Housing Authority Approves Golden Gate Village Residents' Plan
Pacific Sun, March 30, 2022
Marin City rehabilitation plan cleared by housing authority
Marin Independent Journal, March 24, 2022
Golden Gate Village Residents Unveil Rehabilitation Plan
Pacific Sun, January 31, 2022
Golden Gate Village plan must respect history, help find equity for families
Marin Independent Journal, January 15, 2022
Marin City tenant relocated over rat infestation
Marin Independent Journal, January 11, 2022
Golden Gate Village advocates call for greater autonomy
Marin Independent Journal, October 20, 2021
Marin Housing Authority splits with development group
Marin Independent Journal, September 29, 2021
Editorial: Marin housing plan needs better leadership
Marin Independent Journal, September 19, 2021
Tour of Golden Gate Village Apartments Reveals Squalid Conditions
Pacific Sun, September 14, 2021
Federal Housing Agency Threatens to Take Over Marin Housing Authority
Pacific Sun, September 7, 2021
Golden Gate Village Residents Push for Representation on Housing Board
Pacific Sun, August 10, 2021
Cost-effective, energy-efficient retrofits would do wonders for Golden Gate Village, Marin Independent Journal, July 29, 2021
Marin's public housing residents should decide their own future
Justin Philips, San Francisco Chronicle, June 27, 2021
Marin Voice op-ed: Golden Gate Village residents need to be heard
Marin Independent Journal, June 17, 2021
Marin Housing Authority Releases Golden Gate Village 'Demolition' Report
Pacific Sun, June 2, 2021
Historic Marin City Housing Complex in Dangerous Disrepair
Pacific Sun, May 25, 2021
Marin Voice op-ed: Lead the way with racial equity, reimagine Golden Gate Village plan
Marin Independent Journal, February 14, 2021
Marin City council claims cost 'irregularities' in Golden Gate Village plan
Marin Independent Journal, December 26, 2020
Editorial: Golden Gate Village analysis must continue
Marin Independent Journal, November 30, 2020
Marin City residents sue housing authority over living conditions
Marin Independent Journal, August 7, 2020
Marin Voice op-ed: The clock is still ticking for Golden Gate Village residents
Marin Independent Journal, August 6, 2020
TV report: Building a Better Bay Area: Race and Social Justice
KGO (ABC affiliate), San Francisco, August 6, 2020
"(The resident) plan and proposed governance deserves to be evaluated as an alternative in a thorough and independent environmental review of the housing authority's plan.
"Taking procedural shortcuts would be legally risky."
- Editorial, Marin Independent-Journal, 11/30/20

Events and Panel Discussions
Community Land Trust at Golden Gate Village: hosted by the Marin City Library on May 19, 2021. This two-hour event features three short films followed by a panel discussion with GGV Resident Council President, Royce McLemore, Bruce Wolfe of the San Francisco Commjnity Land Trust, and Gus Newport, author of "The CLT Model: A Tool for Permanently Affordable Housing and Wealth Generation.
**********************************************************
A panel discussion following 70 Acres in Chicago screening with CFI Education (courtesy of the California Film Institute)
(NOTE: If you missed the film, you can stream it for free on Kanopy; sign up online with your library card.)
Read letters of support in various Bay Area newspapgers for the Golden Gate Village Resident Council plan and their right to self-determination.