On September 18, 2017, Golden Gate Village was placed on the National Register of Historic Places (NRHP). As California's State Historic Preservation Officer (SHPO) noted at that time: "Placement in the National Register affords a property the honor of inclusion in the nation's official list of cultural resources worthy of preservation…" Read the full letter here.
To understand how this momentous designation came to pass against all odds, read the NRHP application submitted by architect Daniel Ruark, who worked alongside GGV's lead architect, Aaron Green, from 1991-1999. Then watch the live hearing that followed before the California State Historical Commission in Sacramento, which culminated in unanimous approval.
Four years later, on November 21, 2021, Golden Gate Village won first place in the Historic American Landscape Survey (HALS) Challenge, a national competition sponsored annually by the National Park Service. Landscape architect Douglas Nelson said: "I have followed the news about Golden Gate Village for several years and was inspired to use GGV as a submittal for the 2021 theme: Historic Black Landscapes." Read his winning entry here.
Within the rich loam of a past worth preserving, the seeds of a future worth striving for took root. Now comes the hard work necessary to ensure a bountiful harvest. If you're willing to roll up your sleeves and get dirt under your fingernails (metaphorically speaking), we invite you to join us in these next steps.

"Golden Gate Village is the only place in Marin County where you can be poor and live and really take advantage of all the things that the welathy and people from all over the world come here to see."
- Royce McLemore, GGVRC President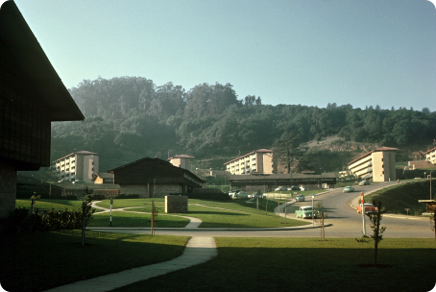 Courtesy John Carl Warenecke Archive, circa 1963